Medical and Biological Engineering Research Group
Introduction to research
We aim to provide solutions to the social needs of medical engineering, such as clinical examination, treatment, and designing a comfortable living environment, based on the life science research of elucidating the mechanism of biological function regulation.
We are searching for biomarkers that are useful for evaluating mental stress and for early diagnosis of various diseases. In particular, we are studying the usefulness of lipid peroxides as biomarkers and conducting research on the application of lipid peroxidation control to the treatment of malaria infections.
By visualizing and measuring the dynamic changes of genes that control cell functions, we are trying to develop medical and cell engineering technologies. We contribute to medical and biotechnological fields by visualizing the gene dynamics, which determines physiological function in the cells.
We are developing new cancer treatment methods based on the search for cancer-related molecules and technology for modifying different molecules to nanoparticles.
We are developing novel antibody creation technology based on protein engineering with the aim of applying alpaca-derived antibodies to biomarker measurement and antibody drugs.
We elucidate the mechanisms of hearing based on brain function and develop technologies for psychological and physiological evaluation of sound quality. We are also engaged in research and development aimed at providing comfortable living spaces for humans.
Analyze biological phenomena by analyzing mathematical models of biological communities such as humans and promote industrial development as a new problem solution.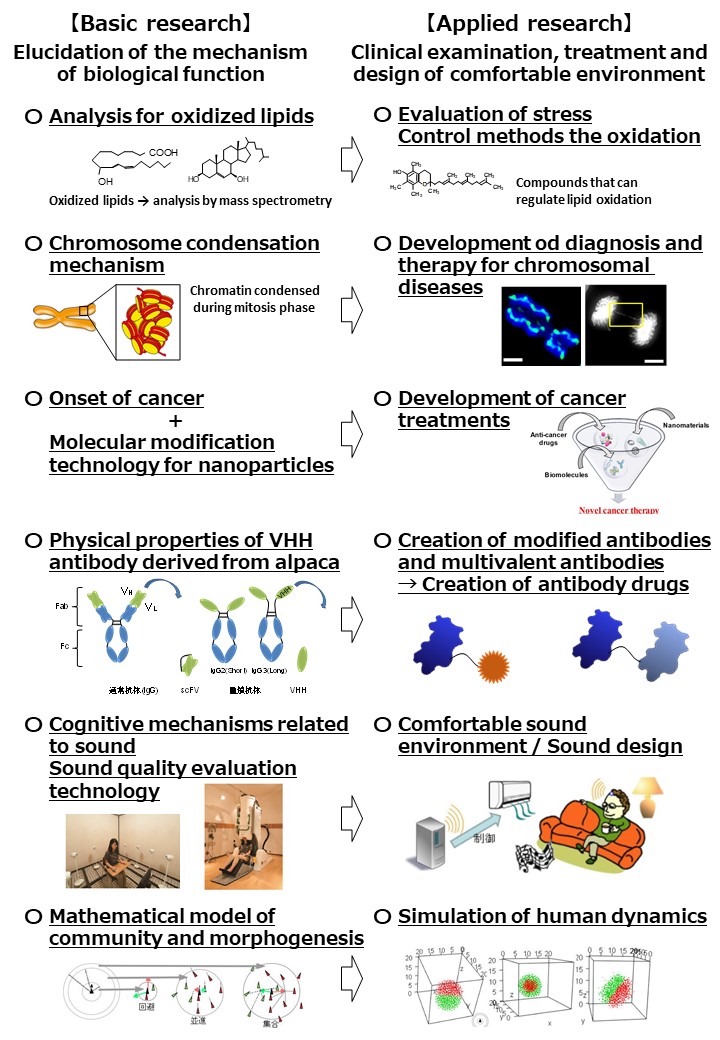 List of Publications
|2023|2022|2021|2020|2019-2015|
Staff:
Mototada SHICHIRI(Research Group Leader)

Mari NAKAMURA

Yoshiharu SOETA

Hironori YAMAZOE

Yoko AKAZAWA

Yu YUE

Tetsuya OKUDA