Publications

GREEN News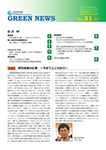 GREEN News
We publish "GREEN NEWS" quarterly to report activities of this Institute. (Japanese Only)
GREEN Report
The "GREEN Report" includes abstracts of the Annual Briefing Session of the Institute. (Japanese Only)
Leaflet
10 Big News Items
Ten Big News Items were selected from various activities carried out at our institute over the past year as having the most potential to contribute to the achievement of sustainable development.
GERAS
Research Document
Annual report
We published "Annual Report" including all research results and various activities of the Research Groups. (Japanese Only)
if you would like to receive more information, please contact us from
here
.

Address
1-1-1 Higashi, Tsukuba, Ibaraki 305-8567, Japan