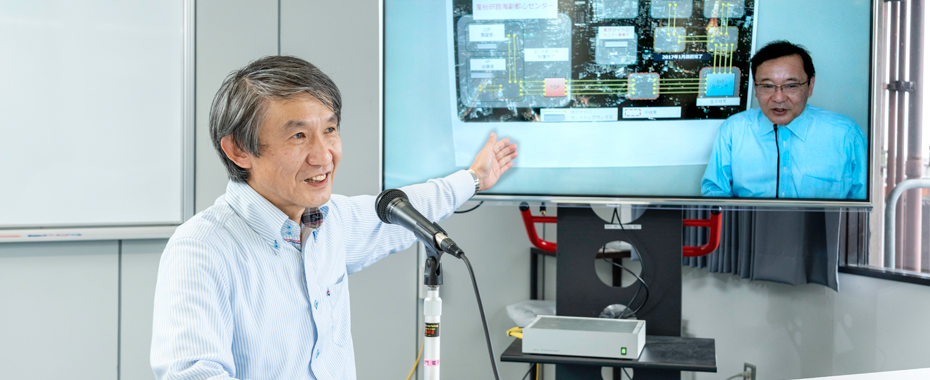 Sharing 4K high-definition video without latency in real time
― Can you explain the mechanism of TeleSessions that achieves transmission with zero latency?
Matsuura:
A keyword of TeleSessions is "zero latency" by optical communication using DOPN in part. Transmission of video using conventional Internet is by IP. For example, Skype is a service that enables communication to be carried out freely. The process is first the video is compressed on the transmission side, and finely divided into IP packets for transmission. When passing an IP router along the way the destination is determined, and also on the receiving side the video is recovered for transmission. Every time this compression, transmission, and recovery occurs time is required, so delays are generated everywhere.
With TeleSessions using DOPN in part, an uncompressed format is used for the video. The video is not compressed but converted into light, and the light is transmitted as light without IP routers, so delays are not generated. No restoration is required at the receiving side, so there are no latency in the whole system. The speed of light enables it to circulate the globe about 7.5 times in 1 second. More precisely the speed in optical fibers is 2/3 of this speed, but the latency is a total of only several tens of milliseconds. Most of this latency is caused not by optical transmission, but it is rather produced in the video equipment such as camera, display, etc., so this is referred to as "zero latency" transmission.
IP will continue to be used as the main method of communication, and packet communication can be said to be appropriate for email and web browsing. However, when continuously transmitting 4K high-definition video from point A to point B, transmission of finely divided packets is not necessary. This is communication in accordance with the use, and zero latency transmission of high-definition video is possible for this use.
― Tell us about the products provided by your company and their value.
Matsuura:
Three items make up a TeleSession system: a set top box that converts the video data to light and that transmits and receives, a display, and a camera. The set top box has been developed as a simple conversion unit that is operated by just turning on the power. Although there are recommended conditions for the display, it may be a normal mass-produced display. Likewise, the camera is not a special camera for television stations, but a normal consumer-grade camera is sufficient. Certainly major investment in equipment is not required, and this is a simple and compact system.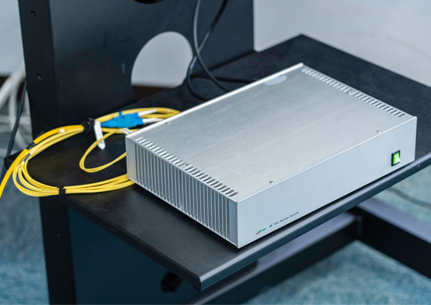 Set top box manufactured in-house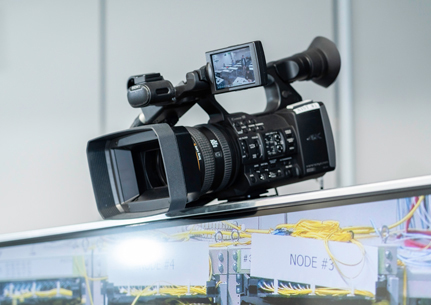 TeleSessions are possible using a consumer-grade camera
As an example of demonstration, first a network is formed at AIST Tsukuba and Tokyo Waterfront, etc. Universities and research institutes within Tokyo are connected, and these distantly located places use it for meetings, etc. Another method of use is to transmit a large volume of data that cannot be instantly sent with in-house infrastructure at the same time as a TeleSession. Sending data in response to a company's request while holding a meeting is an example of providing added value.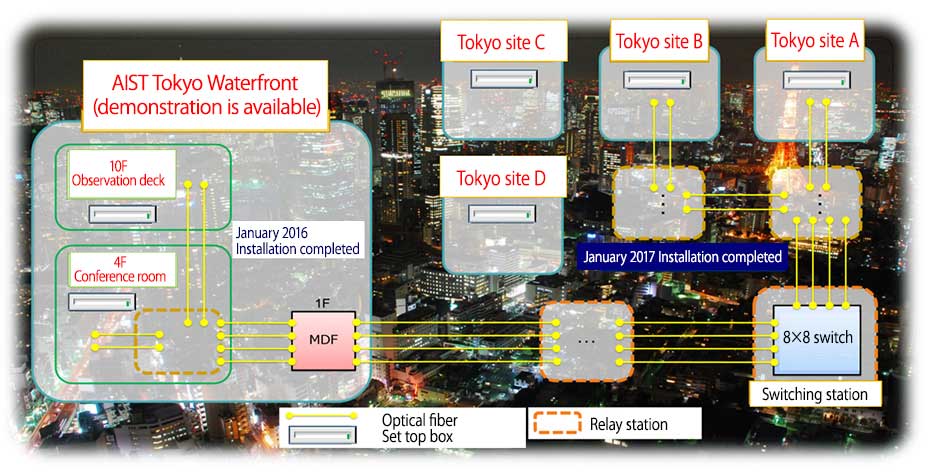 4K TeleSession testbed using DOPN within Tokyo
― In what fields do you envisage TeleSessions being applied?
Matsuura:
Our direction is not suited to a service for consumers, so initially we envisage applications for specific uses, for example in medical treatment where high quality is demanded. We provide a venue that links proficient doctors in Tokyo with operating surgeons in the provinces, to enable operations to be conducted while the surgeon is receiving advice. High quality and low latency are required for the transmission of images. Various scenarios can be considered, such as doctors that are still gaining proficiency can watch the skills of proficient doctors, thereby producing interaction, etc. We see opportunities for use in such fields of medical treatment, and at present our approaches are in progress. In addition, we are focusing on medical treatment in remote areas and nursing, and the next step will likely be there.
It is also considered that the system can be used in the musical scene. When the reactions of the viewers can be directly reflected, the performers will be more enthusiastic. With just a unidirectional relay there is often a 1 second delay, for which normal infrastructure is sufficient. However, in order to have performers and viewers widely separated and clapping and creating a rhythm together and singing together, we think that it is necessary to use TeleSessions to link them together with clear images without latency. This does not have to be a major link-up as on television, but it can be produced on the scale of a more grassroots live house, etc. To date there has been no such service, and probably most people think it is not possible. We want to achieve that which has not been possible to date, this idea is the bedrock of our business, and we really want our service to be utilized.