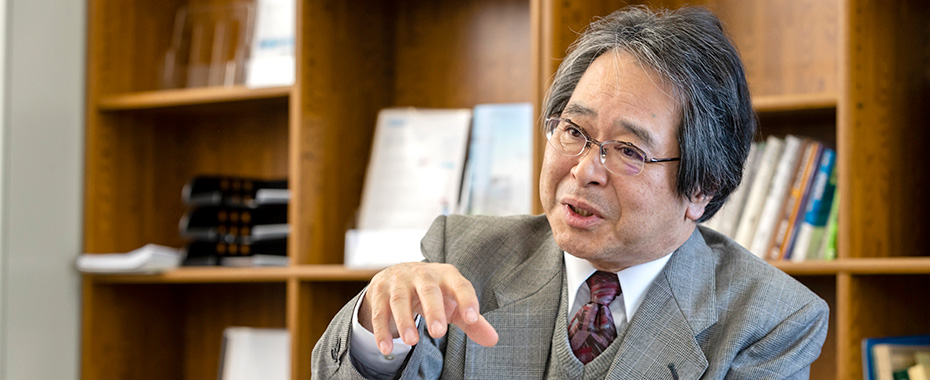 "If it does not exist then we should create a new technology"
― Tell us about the process of establishment of ProteoBridge Corporation and its present status.
Kumagai:
Since before its establishment we conducted a lot of joint research with medical research institutes. While I was Start-up Adviser with AIST, I noticed that Goshima's technologies could easily lead to businesses in the drug development, medical treatment, and diagnostics fields, and we decided to establish the company due to the increasing demand from clinical and exploratory research fields.
About 18 months before the company was established, we had the opportunity to enter into talks with a pharmaceutical company regarding comprehensive protein arrays, to compare the arrays of other competitor companies with our array. Some time later we were contacted by them asking us to participate in joint research. The customer had selected our technology, and this gave us confidence.
In July last year we concluded a 3-way joint research contract regarding "Comprehensive Basic Research to Identify Glaucoma Pathology" with Tohoku University School of Medicine and Santen Pharmaceutical Co., Ltd. We are undertaking analysis of autologous antibodies in blood using the HuPEX® human protein array.
Goshima:
We receive requests for measurements from doctors in hospitals dealing with patients, and invitations from drug manufacturers to join in joint development of devices. For example imagine a contract to develop a new array. We were surprised to receive a proposal from a customer for joint development of a new type of array for which we had the idea but had not yet carried out the development.
That is one characteristic feature of the company. With the excellent HuPEX® resource as the basis, development of new technologies is expected. As a venture company this is very pleasing. Our motto is "If it does not exist then we should create a new technology". We want to overcome obstacles by setting our targets from our ideals.
Kumagai:
In addition, evaluation of immunity is an important business. We can monitor whether transplanted external cells or organs have been accepted by the body by evaluating the antibodies. This is an age when the number of people requiring new drugs is increasing more and more. Under these circumstances we believe that a system for profiling antibodies is essential. The needs from end users and medical treatment and drug development are just increasing. However we are not a medical treatment or drug development company, but a company that provides devices. What this means is that it is important to proceed with development of uses for arrays together with our customers, to expand our business domain.
― What is your vision for future expansion of the business?
Kumagai:
What we are aiming for is a comprehensive diagnostic kit that we envisage will be used for medical checkups. We want to proceed with a kit that can diagnose a very large number of types of disease, such as cancer, autoimmune diseases, etc.
Also, we have started to put efforts into the development of a comprehensive membrane protein array that can be used for analysis of membrane proteins for which there is a great need in the drug development field.
Goshima:
We are aiming to have membrane protein arrays mounted together with membrane lipids, and not only proteins. Originally we understood that immunity and antibodies were important for the body, but there was no comprehensive investigation method, and to date it has been a black box. By developing a protein array that can clarify this, diseases can be identified from antibodies, information on the action of drugs or transplants can be obtained, and a breakthrough from our present status will be made. We intend to further develop array technology that contains the potential to open up new markets and new fields of research.
* The contents of this article are based on information as of March 31, 2019.