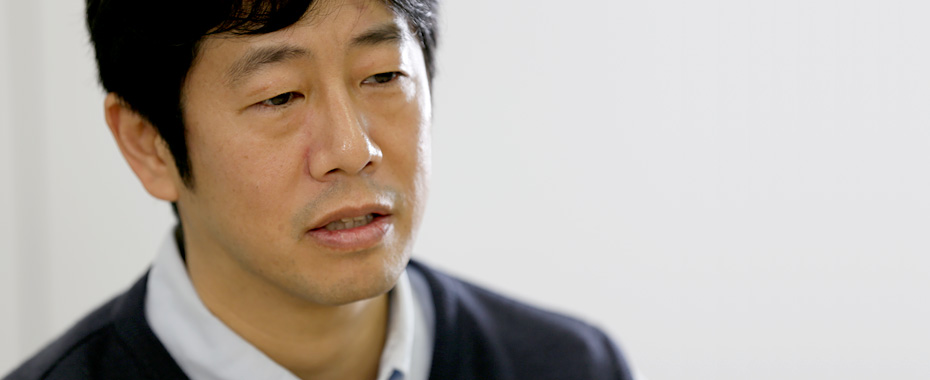 "Creating every bodily sensation world"
-- To what fields do you plan to apply that technology?
Koda:
I have been asked this question in many places, but I always answer that "there are numerous application fields." We can apply the technology not only to one field, but also to all the fields. It can be applied whatever a human sense of touch arises.
If a product has a touch panel, the use of "3D gesture feedback technology" enables intuitive operation. For example, even when a panel is a flat plane, this technology can give feedback so that we can see that "we surely pressed it" by providing sensations of pushing and clicking a button, and it can induce proper motion and action by providing a force to pull a finger. In this way, it is certain that this technology can add a large value to existing technologies such as games, mobile devices, automobiles, and medical treatments, but what we are aiming at is a much larger possibility.
The basic business of Miraisens is "to provide total solutions by utilizing a sense of touch and a bodily sensation." It is not our goal to incorporate our technology in a product, but we have a broad and large vision in that we implement "bodily sensations" in every product, we construct a vast market of the bodily sensation business, and people all over the world can share space using bodily sensations. For example, when a new product is developed, instead of having a meeting online using a display from a remote place, if material is placed in the center and everyone can share it by touching it, we can spread physical and sensitive information such as interactive operability and the operational feeling, as though we share the space, can't we? If we can feel the sensation of shaking hands with a person seen in the display, a feeling of closeness and a sense of unity can arise, which may change the relationship drastically. We think that sharing such bodily sensations is the fundamental communication of human beings; thus, our goal is to provide a new sensation world based on "3D gesture feedback technology."
Nakamura:
We are controlled by a view of the world from digital terminals, mainly by sounds and images, and we tend to expand the view of the world with a premise based on them. In contrast, this technology can create a new view of the world with a feeling of depth, adding a completely different dimension. This technology added a new axis, the sense of touch, to a place where there is only a passive two-dimensional world such as a plane formed by the conventional sense of sight and hearing, and a radically change the shape and functions of devices and service, removing the bias and the limit of development philosophy that we have been unconsciously obsessed with so far.
Those who experienced can understand, but if a technology that we thought "impossible" appears in front of us, our idea will be changed and we will consider that "then we may be able to do this, too," right? In "3D gesture feedback technology" there is the innovative power to cause a chain reaction of such a release, and we have already started to have a partnership after we received ideas from several tens of companies. Making use of our creative original technology and manufacturing technology with the ability of planning and product appeal of Miraisens, we wish to lead haptics technologies in the world.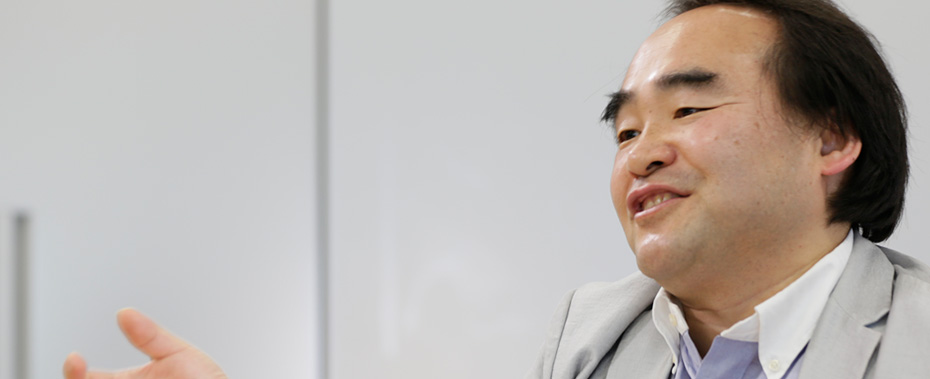 "In 2020, the use of TV would enable us to understand the sensations of athletes"
-- Will the day soon come when we can use products to which "gesture feedback technology" is applied?
Koda:
After the technology was announced, product development with various spans started all at once. The application to game consoles will be realized within several years. Development of industrial robots and medical tools has already started. Within five years, this technology will be introduced in every product including appliances. At that time, we will not be able to imagine a world without "gesture feedback technology," which is similar to the present time where we cannot imagine a life without cell phones.
Nakamura:
At this time what we actively show is output devices that provide sensation, but at the same time we are developing input systems that sample sensation, and we are also trying to miniaturize those devices. Technically, reproduction of sensation can be done by having a brain to misunderstand, so it is possible to have a small device with its size close to that of a ring, also a noncontact device that uses a certain illusory stimulation. Speaking of five years later, the Tokyo Olympic Games will be held, right? I have played soccer, so I think that we can develop a device or a sensation TV that can provide the feeling and bodily sensations of athletes.
-- Listening to your stories, I feel that your teamwork is very good. Is there a division of roles to disseminate "3D gesture feedback technology"?
Nakamura:
Mr. Koda has a broad view and experience that are useful for considering "what is the best way to appeal to users," such as the commercialization of business and the direction of exhibitions, and he spares no effort to improve them. In contrast, I am good at finding out what technologies are needed to realize a creative future, and refining those technologies.
Koda:
I am so to speak a type of a person who widely expands business horizontally. I proceed with my work dynamically and speedily, but sometimes I overlook a golden vein buried right below us. In such a case, Dr. Nakamura, using his experience as a researcher, says to me that "wait a second, dig one centimeter more, there is definitely something here." I say "no way," but if I dig, I can reach the gold vein exactly. Since the startup of the company, maybe we have been repeating this way of working. Neither Dr. Nakamura nor I can be lacking.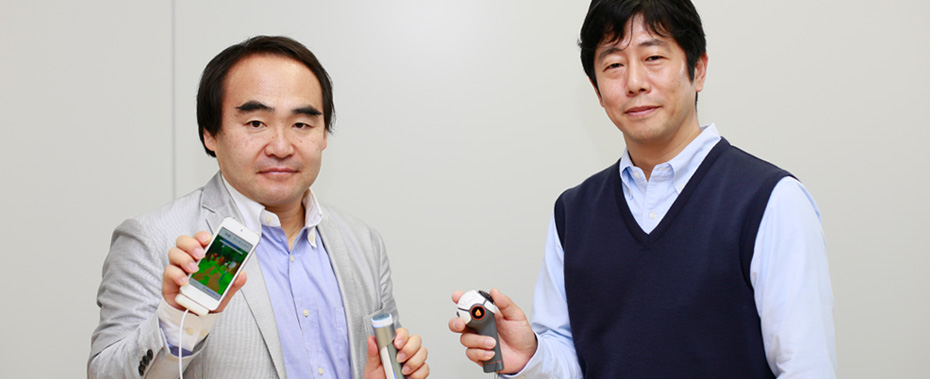 "We would like to be Doraemon"
-- Since January 6th, your products have been exhibited at the International CES (international appliances exhibition), held in Las Vegas, haven't they? How are the responses?
Koda:
I feel that CES is on a global scale, as I thought. CEOs and CTOs in the world top-level companies come to the booth of our company, experience a demonstration, and everyone is very surprised. It is very exciting, because discussions are heated there such that this can be incorporated to that product, we can apply this to such a thing, and so on.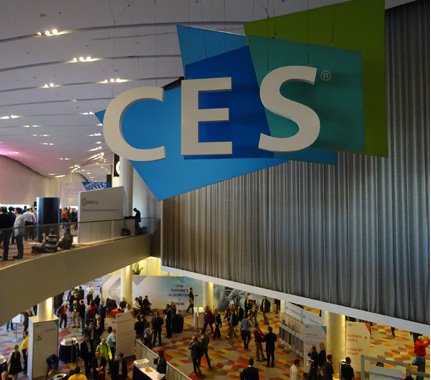 "International CES 2016," held in Las Vegas, United States.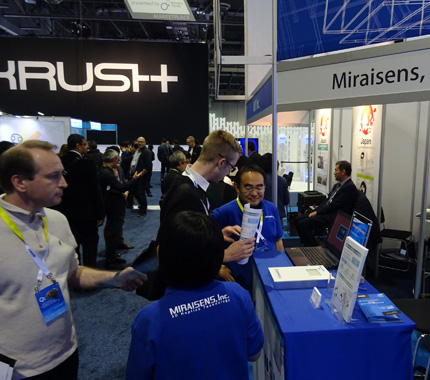 Booth of MIRAISENS, Inc.
-- Can we experience "3D gesture feedback technology" in Japan?
Nakamura:
Yes, at our office we have a place for demonstration, so anybody can come to experience the state-of-the-art devices. If you bring an idea about "I would like to do this kind of thing," even at the level of imagination, the conversation will become concrete and the discussion will be heated. We would like to be "Doraemon"(Japanese popular animation character) in this field. If we are asked "Don't you have such a tool?" we take a tool and say "Here it is," and we would like to surprise the world and change it. This is a realm nobody has ever been to, so there are plenty of possibilities for a small idea leading to a new future. Partners who try to create a new future together are welcome, so please contact us.
* The contents of this article are based on information as of January 8th, 2016.

株式会社ミライセンス
〒226-0006
神奈川県横浜市緑区白山1丁目18-1 村田製作所 横浜事業所内
※株式会社ミライセンスは株式会社村田製作所により完全子会社化されました。(2020/01/22)
MIRAISENS,Inc.
18-1, Hakusan 1-chome, Midori-ku, Yokohama-shi, Kanagawa 226-0006 Japan

*MIRAISENS,Inc. has become a wholly-owned subsidiary of Murata Manufacturing Co., Ltd.[22-Jan-20]
https://www.miraisens.com/