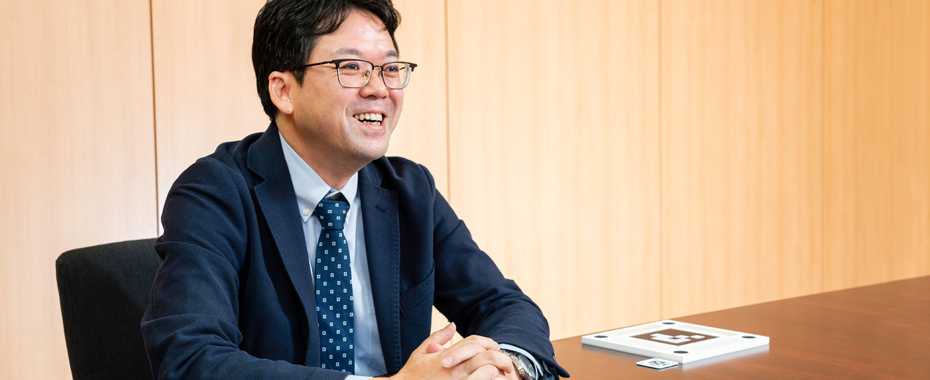 Markers with high-accuracy unlike any others
― Tell us about how "high-accuracy markers" operate.
Oomori:
High-accuracy markers are produced from a combination of a lenticular lens and a fine stripe pattern. A lenticular lens is a fine semi-cylindrical lens arranged horizontally, having the special effect that it shows a different picture depending on the angle that it is viewed from. In high-accuracy markers the picture is not switched, but it is designed so that a black line can be seen to move continuously.
Our name, LEAG (LEnticular Angle Gauge), has been derived from this lenticular lens part, so the company name of LEAG Solutions incorporates the concept of using this technology in various forms.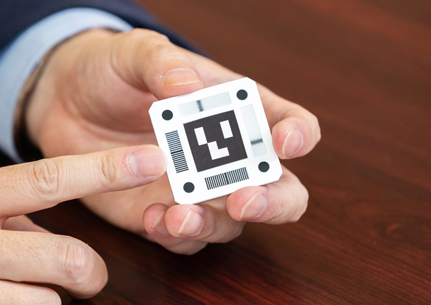 The black lines move depending on the angle viewed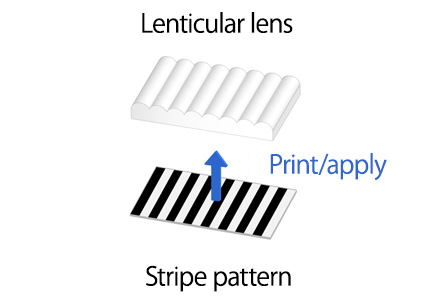 Structure of LEAG using a lenticular lens
― What is its strength compared with a conventional marker?
Oomori:
Their function is that they can enable the measurement of the six degrees of freedom of position and attitude from X, Y, Z, roll, pitch, and yaw, the same as conventional AR markers. The disadvantage of conventional markers is that their angular measurement accuracy is extremely low, with large errors of up to 10 degrees. With high-accuracy markers the movement of the black lines is photographed with a camera and image analysis is performed, so that the angle can be measured with an accuracy of less than one degree.
In addition, positional information can be stably measured because the manufacturers produce the patterns to extremely high accuracy. In numbers, data can be obtained with errors of 1 mm or less or 1 degree or less, which is more than 10 times better than the accuracy with conventional markers. As long as the markers are visible measurement can be carried out with this guaranteed level of accuracy. That is why we refer to these markers as "high-accuracy markers".
― How will these high-accuracy markers be applied and in what fields?
Oomori:
We consider that the four major fields are measurement, control, AR, and positioning. First, in the measurement field 3D measurement and tracking the movement of objects is carried out as a measuring instrument. It can also be used in the same way as motion capture technology. In the control field, in robotic control such as autonomous driving and drones, the acquisition of data on angle and position enables application to constructing systems that control moving bodies.
In the AR field markers are mainly used as positions for the entry of characters. At present uses as guidance for obtaining positional information with smart glass, etc., are increasing. In this field, displays can be smoothly produced if positions are stably known. It is considered that one of the advantages of our markers is that they enable extremely important reality to be constructed.
At present positioning is a field where navigation using GPS is widely used. With our markers not only 2D positions on a flat plane, but also 3D position and attitude data can be obtained, so it is possible to know what direction an object is oriented and at what height. One example of application is targets in indoor spaces. There are other methods such as beacons, etc., but there are no methods that enable data to be obtained with millimeter order accuracy, so systems that enable position to be known indoors with high accuracy can be proposed. Even when positioning markers are separated by 10 m, large size markers that can be seen on the camera are produced, and in the black line pattern the line moves sensitively unlike with normal size markers. With the mechanism in which the line moves when there is a small angular movement, the accuracy achieved maintains errors to within 10 cm and less than 0.1 degree.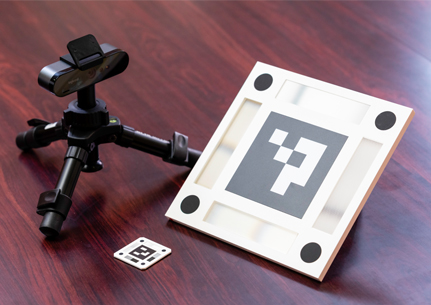 Different size high-accuracy markers depending on the application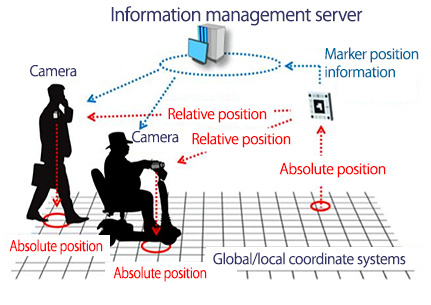 Precise positioning is possible by just taking a photograph of the marker with a camera