"Face Grapher", "PDRplus" and "3D Modeling Service" are all based on measurement technologies.
Hirabayashi:
"Face Grapher" is face recognition and attribute measurement software. By mounting it in digital signage or on a tablet, it is possible to do surveys of the attributes of customers and measure the effect of advertisement contents.
Face recognition technology has been in use in Japan for many years, but almost all of them are used for face authentication to check whether the person in the photo is the same as the person that has been registered in advance, to solve so-called authenticity problems. On the other hand, "Face Grapher" is a face recognition technology that measures the age, gender, and smile level of unspecified people.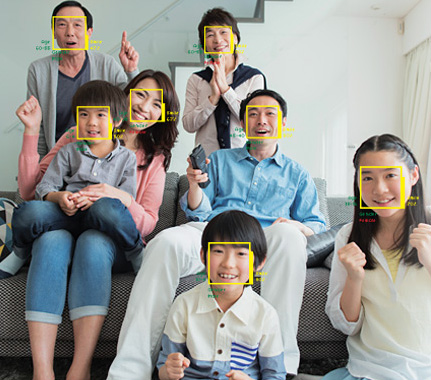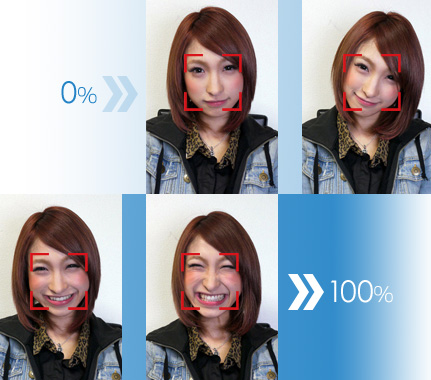 It can perform authentication of DRM of the measurement results in the cloud, accumulation of contents, schedule maintenance, and collection of measurement results, preparation of graphs, etc., for visualization, which can be displayed on a PC.
For example, it can tell the demographics of people looking at digital signage, whether they think it is interesting or not.
Hirabayashi:
Position measuring technology using GPS is well-known, but the radio waves from a satellite actually do not reach indoors, underground, and inside a tunnel, etc. The accurate position measurement thus is difficult with GPS. In other words, GPS doesn't do a good job when it comes to tracking indoors and underground where most of our industrial/commercial activities are held.
"PDRplus" adopts an independent navigation technology called Dead Reckoning(DR). Applying integral calculus to accelerations from 9-axis sensor, DR estimates, by calculation, the position from a reference point even in places where radio waves do not reach. The measured data is displayed for visualization in an intuitive easy-to-understand manner for individual flow lines, for multiple flow lines, and in heat maps of dwell time.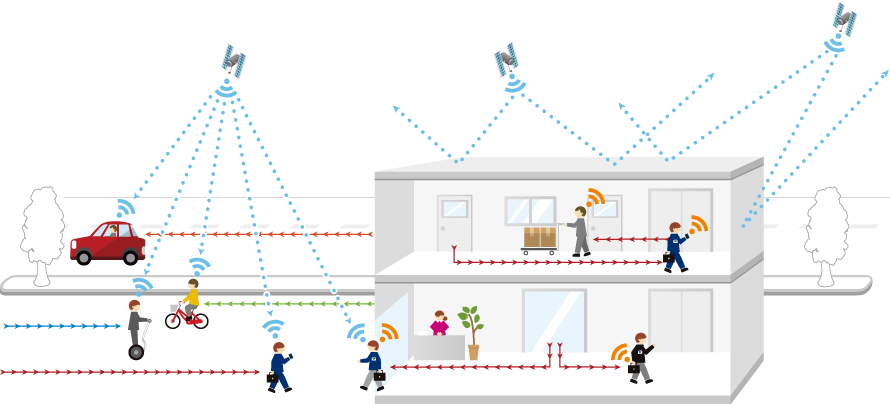 Methods of use include determining the status of work in factories and plants with a mixture of indoors and outdoors by measuring the movement or dwell time of workers, analyzing the working rate, distance traveled, and traveling routes of vehicles such as forklifts, etc., to measure the efficiency.
The entire system used is rather simple. It consists of just beacons set at reference points, and a sensor module, smaller and lighter than a smartphone, to be attached to the target to be measured. It is used for marketing by measuring the actions of consumers at commercial facilities, and for improving productivity by measuring the actions of workers at a factory.
― Give us an overview of "3D Modeling Service" and its advantages.
Hirabayashi:
This is a service to produce a 3D digital model by combining photo images of a subject. It uses a unique technology for combining images, and it has received the "Tokyo Innovative Service Encouragement Award".
Our 3D model is produced from multiple images obtained from an omnidirectional camera. The delivery time therefore is short, and its production cost is low. The volume of data so small that it can be simply viewed over the internet or on a smartphone. As a result of these characteristics, the 3D Modeling Service is our company's most active business.
It is being used by many large companies mainly in the construction industry.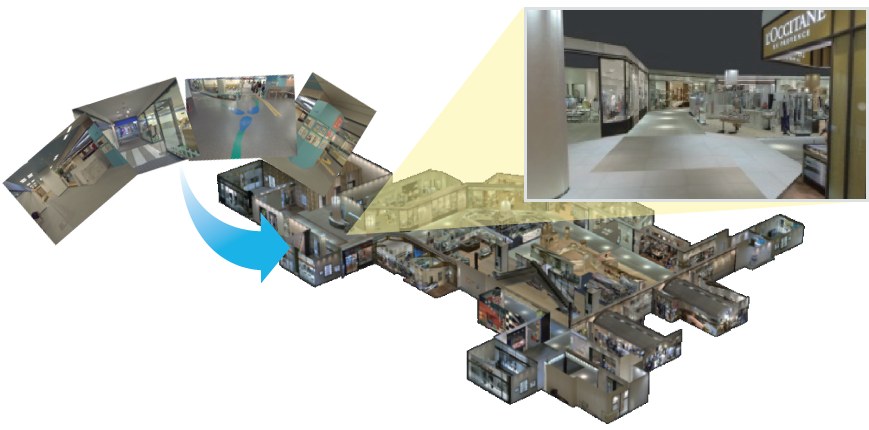 The target buildings are various, such as high-rise buildings, residential buildings, cultural facilities, restaurants, etc. The original images can also be processed. A construction machinery, for example, can be deleted from images. The roof can be removed to show an internal view of a facility, etc.
And also, a 3D model can be produced from a single old photo or from a picture drawn with perspective, even though the original object no longer exists, so historical or cultural value can be created.