---
Subduction Zone Paleoearthquake Research Group
Recent paleoseismological research unveiled that subduction zone earthquake unusually becomes greater due to multi-segment rupture of seismic sources such as the 2011 great Tohoku Earthquake. To predict such earthquake, it is important to reveal the rupture history of past several thousand years. We survey traces of past earthquake and tsunami recorded in coastal topography and sediments to evaluate recurrence time and magnitude. From geophysical interpretation of the field data combining with present instrumental observation data, we provide useful information to disaster mitigation.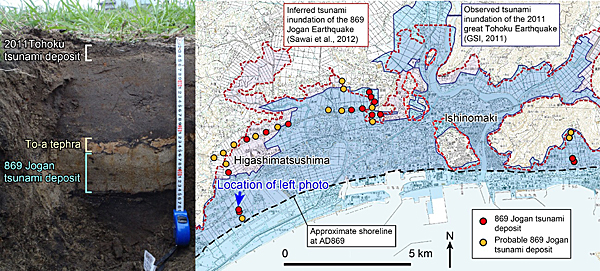 Comparison of tsunami inundation areas between the 869 Joagn earthquake and the 2011 great Tohoku earthquake. Base map is 1/50,000 [Ishinomaki] and [Matsushima] published by Geospatial Information Authority of Japan. Tsunami inundation of the 869 Jogan earthquake is based on model 10 in Sawai et al. (2012).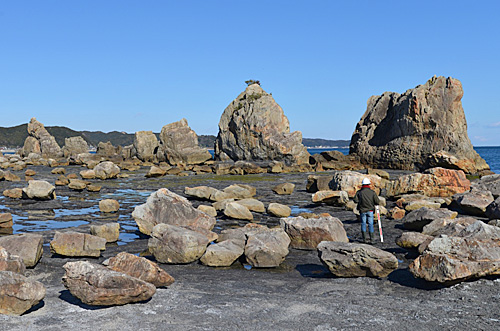 Drifted boulders around Hashigui-iwa in Kushimoto, Wakayama Prefecture. The boulders were probably transported by large tsunami associated with great earthquake along the Nankai Trough.
Yuki Sawai (Leader, Group)

Yuichi Namegaya (Senior Researcher)

Dan Matsumoto (Senior Researcher)

Koichiro Tanigawa (Senior Researcher)

Kei Ioki (Senior Researcher)

Yumi Shimada (Researcher)

Masanobu Shishikura(Group leader, Collaboration office, GSJJ)

Yoshimi Yamaguchi (Technical Staff)

Akiko Tamura (Technical Staff)

Ryouko Koyama (Technical Staff)

Mutsumi Katou (Technical Staff)