---
Volcanic Activity Research Group
Volcanic activity research group conducts research to reveal the eruption history, evolutional process, and eruption mechanism of active volcanoes. Much of our works are in cooperation with the magmatic activity research group and the caldera volcano research group.
For the prediction of volcanic activity, it is important to understand the detailed eruptive and evolutional history and special distribution of the volcanoes. We conduct geological survey, geochemical and geochronological study of Tertiary and Quaternary volcanoes both on land and under the sea. We are also promoting technological development for precise K-Ar and Ar/Ar dating of volcanic rocks in particular for young samples.
Our products include "Geological Map of Volcanoes", the database "Volcanoes of Japan", and also "Geological Map of Japan 1:200,000" and "Quadrangle series 1:50,000" around volcanoes.
In case of an eruption, we conduct an urgent field survey in cooperation with the related researchers and organizations.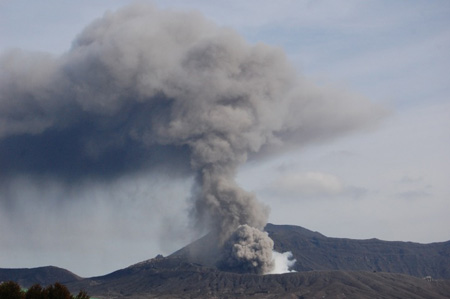 Eruption of Nakadake crater, Aso volcano (Photo on Dec. 27 2014).
To group homepage > https://unit.aist.go.jp/ievg/actvolcano-rg1/ (in Japanese)
Member
Ryuta Furukawa (Leader, Group)

Yoshihisa Kawanabe (Senior Researcher)

Expertise: Volcano Geology

Teruki Oikawa (Senior Researcher)

Expertise: Volcano Geology, Quaternary Geology

Seiko Yamasaki (Senior Researcher)

Expertise: Geochronology, Geochemistry

Yuki Kusano (Senior Researcher)

Expertise: Volcano Geology, Petrology

Yusuke Minami (Researcher)

Expertise: Volcano Geology

Christopher Conway (Researcher)

Expertise: Volcano Geology, Petrology

Hajime Taniuchi (Researcher)

Expertise: Volcano Geology, Petrology

Shouta Watanabe (Research Assistant)

Shun Nakano (Visiting Researcher)

Expertise: Volcano Geology

Shun Nakano (Visiting Researcher)

Kiyo Yamanobe (Technical Staff)

Aki Takiguchi (Technical Staff)

Atsuko Motojima (Technical Staff)

Shouhei Shibata (Technical Staff)

Kazuma Suzuki (Technical Staff)