産業技術総合研究所 活断層・火山研究部門
地震テクトニクス研究グループ

Seismotectonics Research Group, Research Institute of Earthquake and Volcano Geology, GSJ / AIST
お知らせ

LATEST INFORMATION
2021-06-08

論文のお知らせです.
New publication.
Keisuke Yano, ,Takahiro Shiina, Sumito Kurata, Aitaro Kato, Fumiyasu Komaki, Shin'ichi Sakai, Naoshi Hirata (2021). Graph-partitioning based convolutional neural network for earthquake detection using a seismic array. Journal of Geophysical Research: Solid Earth, 126, e2020JB020269. https://doi.org/10.1029/2020JB020269 (IF=3.639)

2021-06-08

日本地球惑星科学連合2021年大会に参加いたしました.(5月30日-6月6日 オンライン開催.重松,内出,浦田,椎名,Yeo)
Shigematsu, Uchide, Urata, Shiina, and Yeo joined Japan Geoscience Union Meeting 2021 held online on May 30 - June 6.

2021-04-15

本グループが展示協力いたしました地質標本館特別展「日本列島ストレスマップ-地震観測とAIで読み解く全国の地殻応力場-」のお知らせです.(会期2021年4月27日~8月1日,入館予約制)
Our group supports the Special Exhibition "Stress Map of the Japanese Islands" at the Geological Museum. (April 27, 2021 - August 1, 2021, Advance booking required)


2021-04-01

堀川晴央主任研究員(異動),浦田優美主任研究員(新任)が着任いたしました.
Two senior researchers, HORIKAWA Haruo and URATA Yumi, joined our team.

2021-03-31

論文のお知らせです.
New publication.
今西和俊・内出崇彦・椎名高裕・松下レイケン・中井未里
中国地域の地殻内応力マップ,地質調査研究報告,第72巻,第1号,p. 23–40, 2021
Kazutoshi Imanishi, Takahiko Uchide, Takahiro Shiina, Reiken Matsushita and Misato Nakai (2021)
Construction of the Crustal Stress Map in Chugoku Region, western Japan. Bull. Geol. Surv. Japan, vol. 72 (1), p.23–40.
https://www.gsj.jp/publications/bulletin/bull2021/bull72-01.html

2021-02-10

論文のお知らせです.
New publication.
T. Shiina, T. Maeda, M. Kano, A. Kato, N. Hirata (2021)
An Optimum 2D Seismic‐Wavefield Reconstruction in Densely and Nonuniformly Distributed Stations: The Metropolitan Seismic Observation Network in Japan. Seismological Research Letters 2021. https://doi.org/10.1785/0220200196 (IF=3.131)
T. Shiina, K. Katsumata, K. Yomogida, A. Kato (2021)
Attenuation contrast in mantle wedge across the volcanic front of northeastern Japan that controls propagations of high-frequency S-wave later phases, Earth, Planets and Space, 73, 33 (2021). https://doi.org/10.1186/s40623-021-01361-z (IF=2.736)
研究

RESEARCH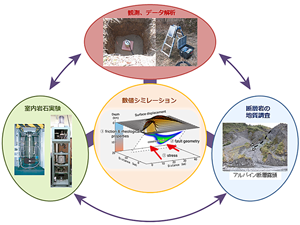 地震テクトニクス研究グループでは,地震観測・解析,過去深部にあった断層帯の地質調査,室内岩石実験,数値シミュレーション,などの研究を有機的に連携させて,地震が発生する場や発生にいたるプロセスを解明する研究に取り組んでいます.
 関東地域における地震テクトニックマップを公表し,現在は,中国地域における地震テクトニックマップの作成と,今後いち早く全国整備を終えるために,地震解析の加速化の研究を行っています.また,脆性から塑性に至る断層変形プロセスの解明,プレート境界地震と内陸地震の相互作用を考慮したサイクルシミュレーターの開発にも取り組んでいます.
 これらの研究を通して,物理モデルに基づいた地震の規模と発生時期の予測技術の確立を目指しています.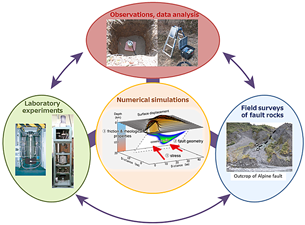 Our group aims to elucidate the physical and mechanical properties of the seismogenic zone, and the generation processes of large earthquakes, by linking seismological observations and data analysis, geological studies of exhumed faults, laboratory experiments, and numerical modelings.
 We have published the seismotectonic map of the Kanto region, and are currently constructing a seismotectonic map of the Chugoku region (SW Japan) based on detailed knowledge of local stress fields. We also aim to accelerate seismic data processing in order to complete seismotectonic maps for all regions of Japan. Furthermore, we are studying the deformation processes operating within fault rocks under conditions spanning the brittle to ductile regimes, and we are developing simulation techniques by integrating the interaction between subduction-zone - and inland earthquakes.
 Our studies provide a basis for improving accuracies of long-term forecasting and evaluation of the magnitudes of future earthquakes.