About us
Outline of the Center
The target is to solve the problem of declining birthrate and aging population, which is one of the social issues. We aim to realize the following items in all industrial fields by using technology that integrates AI, robots, sensors, etc. to cooperate with humans.
Optimization of labor input resources
Improvement of employee quality of work
Creation of new customer value, inheritance of skills and sophistication in anticipation of changes in the industrial structure
We improve the technology of modeling, planning / control, system design, etc. for systems consisting of workers, sensors, robots, equipment, work environment, etc. in the manufacturing or service industry. By utilizing AI that cooperates with humans, we develop and demonstrate technology that optimizes from the viewpoint of workability and productivity while maintaining the safety and flexibility of the system. In order to develop new technologies in the real area, we have established a testbed environment in the Cyber Physical System research building at the AIST Tokyo Waterfront, including the factory environment in the manufacturing field and the retail store environment in the logistics field, and are promoting industry-academia-government collaboration activities through collaborative research and consortium partnerships.

In Hokuriku Digital Manufacturing Center, the newest AIST research site opened in May 2023, two research teams have been allocated to encourage R&D in textile and metalworking industries thriving in the Hokuriku region. It is expected to promote innovations in the industries by making new high-value products and services of smart-textile and metal additive manufacturing technologies, as well as the development of digital human resources.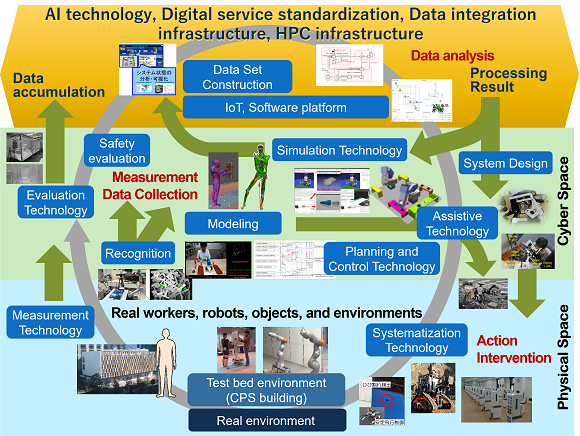 Integrated system for AI, Sensing (IoT), and Robot integration based on cyber-physical systems (CPS)
Organization
as of May 1, 2023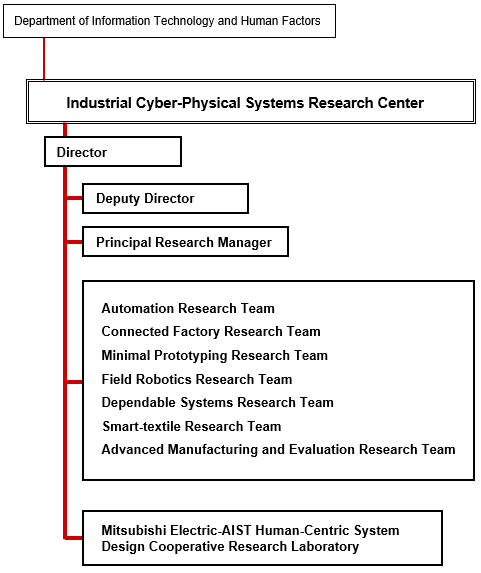 Research Site
AIST Tokyo Waterfront
AIST Tsukuba Central 2
Hokuriku Digital Manufacturing Center, AIST