Primary calibration service for reference PV cell
Information on primary calibration service of reference PV cell at AIST
We have contribute from the beginning as an organization of the Qualified Laboratory, which has only four institutes worldwide, to maintain World Photovoltaic Scale(WPVS) which is the key comparison reference value of the primary calibration of reference PV cell.

AIST's primary reference PV cell calibration has been accredited by International Accreditation Japan (IAJapan) organized by National Institute of Technology and Evaluation (NITE) with calibration capability based on ISO/IEC 17025 on May 16, 2008 (Accreditation No. ASNITE 0021 C). This accreditation complies with the ILAC and APAC MRA.
This primary calibration service is carried out based on the AIST "Requested Test Regulations (Chapter 2 Testing, Analysis, or Calibration Related to Science and Technology of Mining and Industry)".

We can respond to the requests from outside Japan, although the applicants are required to apply for the service through a corporation in Japan as an agent.
1. Requirements for the structure of reference PV cell to be calibrated

Reference PV cell is mounted on the WPVS recommended package specified by JIS C 8904-2/ IEC60904-2, and the stability of its output has been confirmed.

2. Applicable standards and calibration method

Applicable standard: JIS C 8910
Calibration method: Solar Simulator Method (AIST SPC-M-0051 Primary Reference PV Cell Calibration Procedure)

3. Start time of calibration work

Calibration work will start after confirmation of payment of the fee. The equipment to be calibrated is sent to AIST in advance.

4. Issuance and sending of calibration certificate

Calibration certificate will be issued in Japanese or English with the ILAC MRA logo and will be sent to the person in charge (or a representative).

5. Delivery date

Period from the payment of the fee to the issuance of the calibration certificate is approximately 1.5 months. However, the delivery date will vary depending on the number of applications received in advance and the status of implementation of the research, which is our main responsibility. Please understand in advance.

6. Contact

Email: pv_irai_shiken-ml(at)aist.go.jp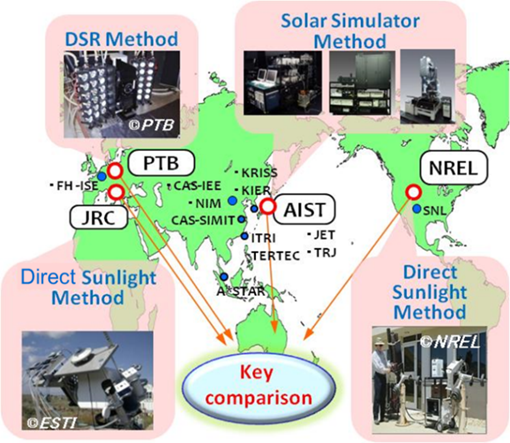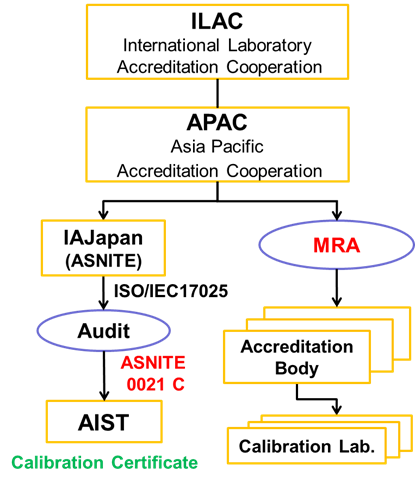 WPVS qualified laboratories (left) and framework of international mutual recognition agreements for ILAC and APAC (right).
(update: 2020.07.22)